I'm going to carry on with my book reads this year. So without further ado, here are the remaining books I devoured in 2016.
The Scarlet Thread by D.S. Murphy
Blame this guy for my having listened to Fallen in audiobook lol! He apparently advertised The Scarlet Thread by piggybacking on the upcoming Fallen movie. He didn't say go read Fallen but reading his advertising approach caused me to read both that book as well as his short story, The Scarlet Thread. I enjoyed his story, fortunately and will look out for the full novel when it comes out. The characters he created were interesting, the universe was intriguing and I'm sure the longer piece will be only better. Oh, and I'm truly jealous that he created his own stunning cover.
The Mind Readers by Lori Brighton
Another YA book I read this year. I truly enjoyed this one. If you are into reading about characters with special powers, this one's for you. I think I'll read more from this series next year. Great writing!
Shepherds: Awakening by Damian Connolly
This was a self-published book that I received an ARC for. The concept of this story was quite different and the author did a good job at creating a surreal world that seemed beautiful and scary at the same time. Oh, and what a stunning cover!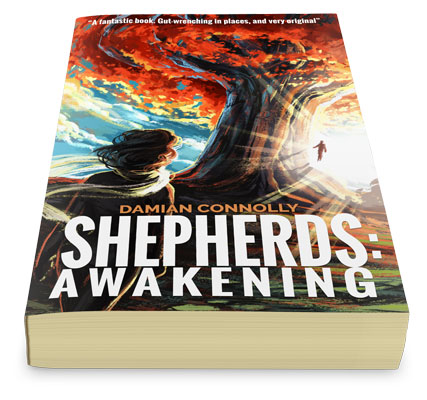 Till Death by Victoria DeLuis
Another self-published tome and I liked it. Till Death was a prequel to the upcoming A Matter Of Death and I tore through it quickly. It was an enjoyable read for fans of stories with a supernatural flare. Think Torchwood, the Dr. Who spinoff. Well, sort of. =) I've already added Book 1 of the series to my Kindle. Can't wait to read it this holiday season!
An Ember In he Ashes Series by Sabaa Tahir
I remember when I finished Book 1. Luckily I only had to wait a few months for the sequel to be released but those months were a tad painful. I just wanted to know what happened next to Elias and Laia. Oh and Hel, of course. Book 2 wasn't as good as I expected though still very good. I feel as if the middle dragged on for too long and the end was building up to something with a whole bunch of deaths but then the book ended and I was … I don't know, disappointed? I think I was expecting something other than the ending I got, lol. Still, can't wait for the third installment, which should be out in 2018. And a fourth is supposedly planned.
Breaking Sky by Corey McCarthy
My local library recommended this book and since I love my local library, I read Breaking Sky. What can I say about this story? Hmm. I liked the characters. I liked the setting – dystopian future. As a politics junkie, I can believe in a world where the Chinese have flexed enough to isolate the USA politically. It had all great factors, this story did, but by the end, I was left wanting. And not in a good way. Because it's a standalone book, I was unable to satisfy my need to know more. And because there was no follow-up book, the ending of Breaking Sky was …awkward in a sense. Oh, I don't know. Let's just say, I would have liked to learn what happens in the future. How about that?
Snow Like Ashes by Sara Raasch
So, let me start by noting that the imagery created by this author were vivid and drew me in. However, the story just didn't. Because I feel it's disrespectful to start a book and not finish it (yes, a very odd attitude that I'm weaning myself from, thank you very much), I read this to the end. I even started Book 2. I got to the second chapter and went no further, unfortunately.  There's nothing I can pinpoint to as being bad but I just couldn't get into the swing of this one. =(
Victoria Aveyard's Glass Sword, Queen Song & Steel Scars
One book I over-enjoyed in 2015 was the Red Queen. So, when the prequel novellas came out, I was happy to read them. They whet my appetite for Book 2, which did not disappoint in the least. And, here I am waiting for Book 3, King's Cage, to drop.
The Game of Lives (The Mortality Doctrine Book 3) by James Daschner
I read the entire series over the 2015 Xmas and New Years holidays. All I remember about this series is that it left me a bit disappointed. I needed some science fiction in my life at the time and opted for this as I was doing research and reading as much YA as I could.
So, it turns out I read 26 books in 2016. I'm currently reading The Midnight Star by Marie Lu and plan to complete Sea of Shadows by Kelley Armstrong plus Defiance by C.J. Redwine. I just might finish all three by December 31st. Wish I could squeeze in 1 more fiction books to round the year at 30 but I'm not going to push my luck. =)
Oh wait, I did read  and review Emotion Amplifiers by Angela Ackerman & Becca Puglisi. It's non-fiction but I'm throwing it on to my list of read books in 2016. Now, if I finish the three I mentioned in the last paragraph, I'll definitely hit 30.
Ah, the words of one of my fave soca songs – Kervin Dubois 'Circles' – has come to mind – Today I'm on a mission, I ain't stopping, I make my decision [sic] and I moving full speed ahead[sic]… Yup, 3 books to go before the year ends!
Happy reading and have a great holiday season wherever you are !!!!!