I just got to watch Game of Thrones because, I hardly get to watch my preferred tv shows live.
It is what it is, but my life doesn't always permit me to watch much live tv but the news.
Anyway, this season finale episode was … PURE FYAH!!!!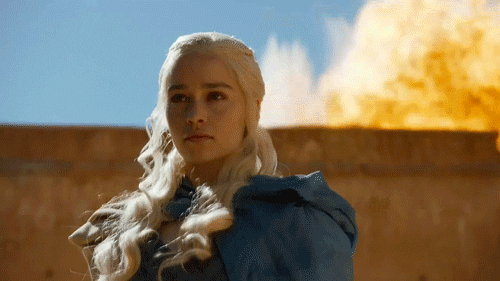 Yes, I loved almost every second of it and I managed to walk away with a few #writinglessons. Please be aware that spoilers lie ahead.
Shock the hell out of everyone. As a writer, I know the importance of shocking my readers.  It is always important to give them something they don't expect. Like, I didn't expect Tommen to off himself the way he did. I also didn't expect Cersei to off everyone in the septum the way she did. As in, damn, Cersei is a cold-blooded BAWSE.
REALLY shock the hell out of everyone. I'm certain I wasn't the only one surprised that Cersei and Qyburn would use children as assassins. Like DAMN. But it's those sorts of surprises that make for a good story. Oh, and the irony of the young destroying the old was a great image and I wonder if that will be a theme in the future.
Allow your characters to be their true self. Eventually. Cersei – the black queen has come into her own, forced there by a series of events.  Daenerys – the dragon queen has relinquished love, with no emotions, in order to gain the seven kingdoms (is she going to be just like her mad father?). John Snow – the bastard Targaryen has become the king of the north (but trouble lies ahead what with the secrets between himself and Sansa). Arya Stark. Need I say more? These essential characters have come into their own and I like it. Ooh and I can't forget Granny Olenna Tyrell. She cut those Sand sisters at their knees in her typical quick tongue and she's about to be that granny out for revenge. Long story short – be true to your character's character.
And now, I'm off to see how I can apply these few tips to my story, THE PURSUAL. It goes to the editor later today and I'm so nervous.
Have you joined my mailing list? It's very easy, just click here to subscribe.