Nollywood is the colloquial term for Nigeria's homegrown movie industry. It's considered the second largest by volume, after India's Bollywood and America's Hollywood.
We all know quantity does not equate to quality.
Nollywood movies, while dramatic, highly entertaining and (sadly) often realistic portrayals of real life for the average Nigerian, do not always measure up to well-crafted stories. That has something to do with the economics of Nollywood – films are made quickly on the cheap.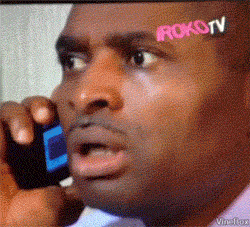 (You think I'm kidding when I say they are dramatic, heehee)
I recently watched a movie (because despite their challenges, I enjoy Nollywood) and walked away with the following #writinglessons –
remove extraneous characters and scenes. The more is not the merrier and too many people in a story prevents consumers from focusing on the main ones;
focus on your main characters from the very beginning, not secondary or nonessential players. Failing to do so will always confuse consumers and they may abandon your product before you 'hook' them;
be efficient. The length of a story is not indicative of its quality. Get to the point and give consumers 'bang for their buck'. It'll keep them coming for more.
continuity is key. If your character suddenly shows up with a long flowing honey blonde mane when she had a short haircut in the last scene – that's not good. Keep a character's appearance consistent. No need to confuse consumers or drag us out of the story to try and figure out if someone switched the channel; and

not all drama is good drama in a story. Nigerian culture is extra dramatic (and many of us love it just like that) but toning down the drama can give certain scenes more salience.
I think anyone who takes story structure into consideration will see the value in the tips above.  While they are takeaways from the Nollywood film I saw, it's clear that they are relevant for book writers as well.
Are you familiar with Nollywood? Do you have any tips to share that could be beneficial for this writer and others? Do share. =)
Also, have you joined my mailing list? It's very easy, just click here to subscribe.